"Tell the students to give up their small ambitions and come eastward to preach the gospel of Christ." – St. Francis Xavier
St. Francis Xavier Catholic Church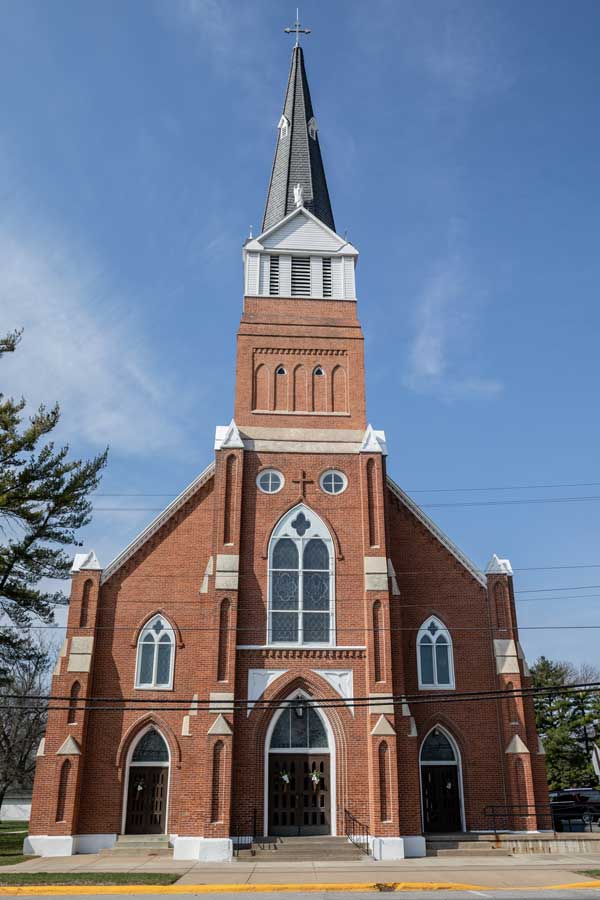 Address
506 South State Street
Jerseyville, IL 62052
(618) 498-3518
[email protected]
Mass Schedule
Saturday Vigil | 4:00 p.m.
Sunday | 10:15 a.m.
Rite of Reconciliation | Saturday, 3:15 – 3:45 p.m. or by appointment
Pastors
| | |
| --- | --- |
| Fr. Thomas F. Mangan | 1857 – 1860 |
| Fr. Marrill | 1860 – 1861 |
| Fr. Laurent | 1861 – 1865 |
| Fr. Hovin | 1865 – 1866 |
| Fr. John Sullivan | 1866 – 1868 |
| Fr. James J. Harty | 1868 – 1899 |
| Fr. Fallon | 1899 – 1904 |
| Fr. Bernard Lee | 1904 – 1907 |
| Fr. Joseph Driscoll | 1907 – 1914 |
| Fr. John J. Clancy | 1914 – 1967 |
| Fr. Francis D. Lee | 1966 – 1971 |
| Fr. Terrence Shea | 1971 – 1977 |
| Fr. Patrick Morrow | 1977 – 1987 |
| Fr. Henry Schmidt | 1987 – 1991 |
| Fr. William Kekeisen | 1991 – 1998 |
| Fr. D. Patrick Gibbons | 1998 – 2017 |
| Fr. Stephen Pohlman | 2017 – 2019 |
| Fr. Martin Smith | 2019 – |
When Jersey County was formed there was only one Catholic family, the Carroll family living in Elsah Township. By 1839 there were two more families, a Thomas Carroll family and Mrs. Mary Cummings family. During 1839 the families of William Shepherd, Fred Bertman and William Kelly came to reside in Jersey County. There was no church but Father George Hamilton would come to this area and minister to the Catholic population. There was also a circuit rider, Father Michael Carroll. Father George Hamilton had the privilege of performing the first marriage, that being of William Kelly.
The first Catholic service was held in the William Shepherd home in the fall of 1841. Fathers Carroll and Hamilton of the Alton diocese, which included Jersey county, occasionally visited Jerseyville and held services in private homes and the courthouse.
In 1848 – 1849, it was decided there was a need for a Catholic Church. William Shepherd, Fred Bertman and William Kelly purchased from J.A. and C.J. Barr a plot of ground on which to build that church. It was not until 1857 that a small frame church was erected which was dedicated in July by the Right Rev. Henry Damian Junker, bishop of Alton, Illinois. Father Thomas F. Mangan became the first resident priest of St. Francis Xavier church where he remained until April of 1860. He was succeeded by Father Marrill until February 1861. His successor was Father Laurent, February 1861 to February 1865, who had very comfortable rectory built which later became the home for the Dominican Sisters who staffed the school for over 100 years. Father Laurent also purchased ground for a Parish Cemetery.
Father Hovin was here a very short time, 1865 – 1866, when Father John Sullivan was sent to build a new church. Father Sullivan had the overseeing of St. Malachy Church in St. Louis. He began a building program at once. The cornerstone was laid in May 1868. Shortly after this, money ran out and Father Sullivan requested to be transferred to Springfield. He was replaced by Father James J. Harty, December 1868 – 1899. Father Harty took over the building of St. Francis Xavier Church. The main body of the church was to be 55 by 100 feet. The tower over 150 feet. The inside height of the ceiling in the center of the nave is 43 feet and side aisles is 25 feet. William Embly and Sons were the architects of the Gothic style church. The body being of brick made in Jerseyville and stone trimmings from the Grafton quarries. Masons from Alton did the brick work, Nichol T. Smith Jr. the carpenter work and Coddington & Irwin the plastering. The roof was covered with slate shingles. This was done at a cost of $25,000 and took three years to complete. One of our parishioners has a special pride in our church, Mrs. Hubert (Grace Embly) Allen, as it was her great uncle, William Embly, who was the architect.
On July 4, 1871, "the Total Abstinence Society" of Alton were met at the depot by the "Hibernian Society" of Jerseyville and with the juvenile band of the Annunciation School of St. Louis, marched through the main streets to the church. St. Francis Xavier Church was dedicated by the Bishop of Alton, Reverend P. J. Baltes. The celebrant of the day was Reverend P. Cline of Kaskaskia, assisted by Deacon Reverend John Moher of Alton, and Subdeacon Reverend P. Brady of Sprinfield, Master of Ceremonies – Reverend J. J. Johnson, Vicar General of the Diocese, Dedication sermon by Reverend David Daley of St. Louis.
Father James Harty remained at St. Francis for 32 years until his death in July, 1899. He was succeeded by Father Fallon until 1904 when Father Bernard Lee became resident priest. He was one of the greatest church builders of the times of the Alton Diocese, now Springfield Diocese.
On January 1, 1904, Father Bernard Lee because Parish Priest until July 1, 1907. He accomplished much during his stay. He replaced the old frame rectory with a new 12 room brick rectory and a new brick school for the parish. He also did the first extensive room renovation to the auditorium of the church. Large pillars and arches were added to support the roof when shearing actions were noted in the south wall. A coach house was also built during this time, and the Dominican Sisters wSave
ere moved to the old frame rectory where they stayed until the 1970s when Father Shea built a new rectory and convent.
Father Joseph Driscoll came to St. Francis in 1907 until 1914. He had a very quiet residency.
In October of 1914, Father John. J. Clancy came to St. Francis to assume the task of paying off a large debt and remained for 53 years until his death on November 16, 1967. During this time, the bell tower became weather weakened and there was talk of its being removed. Cost of renovation was believed to be prohibitive. This became common knowledge around town and Attorney Theodore Chapman wrote to Father Clancy that the removal of the tower was a concern of the entire community. To impress upon Father Clancy his earnest concern he offered to pay the entire cost of the renovation if parish funds were not enough. Mr. Chapman was not a member of St. Francis but he contributed much financial help, and in 1944 Joseph G. McDaniels, a member of the parish, undertook and completed the rebuilding and painting of the English Gothic tower and belfry with its 3,000 pound bell. He took great pride in doing this which was refused by large St. Louis firms because of the possible dangers involved. Father Clancy had the roofs of the church and school roofed with slate as they were originally.
Father Clancy broke his hip in 1965 and since resided in Alton's St. Anthony's Hospital but returned to St. Francis Xavier Church, August 15, 1966, to say Mass in celebration of his 75th year of Ordination. In his 52 years as pastor, he baptized more than 950 and married 280 couples. He administered First Holy Communion to some 1,200 children and held funerals for 570 souls in his long pastorate. Father Clancy died at 8:30 a.m. on Thursday, November 16, 1967 at St. Anthony's Hospital in Alton, Illinois at the age of 101.
Since Father Clancy was in the hospital, Father Francis D. Lee was assigned to St. Francis in 1966. During his tenure, the church was redecorated. He was replaced in 1971 by Father Terrence Shea who undertook the task of paying off the debt of renovations. Father Terrence Shea was here from January 1971 to March 1977. During that time he razed the 12 room rectory and sisters' frame home to make room for more playground space and an addition to the school. This building, known as Shea Stadium, was complete with a kitchen and restrooms and was attached to the school. It serves as parish hall, gym and school cafeteria. A new, smaller rectory and convent were added to the parish. Mary Witt Heitzig gave the church a beautiful pipe organ. It was introduced to the Parish by Mary Witt Heitzig's daughter, Mary Ann (Sug) Heitzig Rydzeski and Doug Updike.
In June, 1977, Father Patrick Morrow came to St. Francis Parish and remained until January 24, 1987. Father Morrow died while serving St. Francis Parish.
Father Henry Schmidt served as pastor from 1987 to 1991, when he was assigned to St. John's in Carrollton, Illinois.
Father William Kekeisen then served as pastor from 1991 to 1998 when he retired.
Father D. Patrick Gibbons was assigned to St. Francis Xavier on July 4, 1998. He worked hard to repair and restore the church. The church was tuck pointed, painted, stained glass windows leaded and the bell tower reinforced. Father Gibbons was assigned to St. Cecilia Catholic Church, Glen Carbon, on July 1, 2017.
Father Martin Smith came to St. Francis as pastor in 2019.
At various times, the parish has been served by the following assistants: Father Curran, Father Mee, Father Shields, Father Frank Lawler, Father McKeough, Father A. J. Harty, Father Terrence Brady, Father Eugene Griffith, Father Thomas Gorman, Father Francis D. Lee, Father Terrence Shea, Father William Maul, and Father Roger Simpson.
Father Brady was killed in WWII and the Jerseyville Knights of Columbus Council is named for him. Fathers Francis D. Lee and Terrence Shea are the only two priests to come back to St. Francis Xavier as resident priests.