"His mother said to the servants, "Do whatever he tells you."" John 2:5
St. Mary's Catholic Church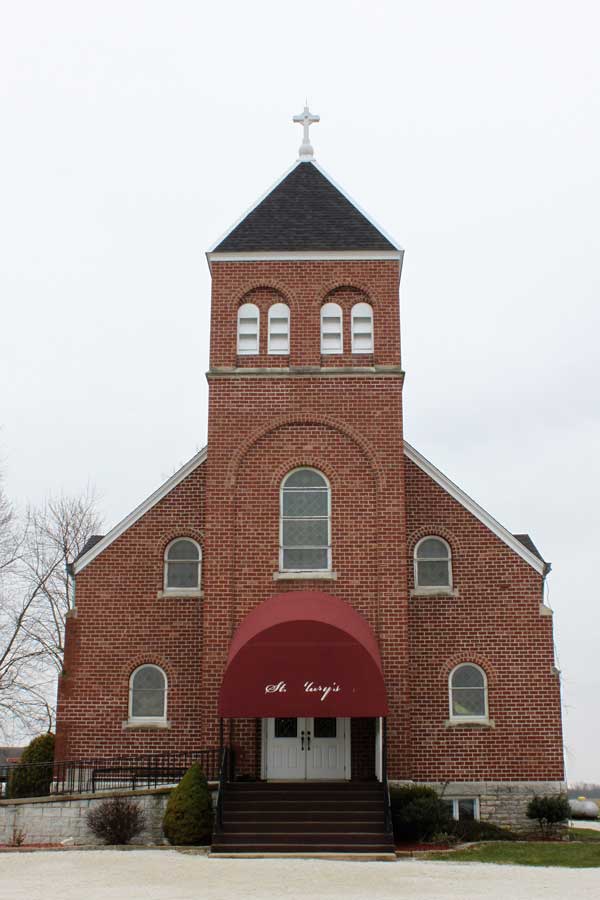 Address
Fieldon, IL 62031
Mailing Address:
306 N. Washington
Jerseyville, IL 62052
(618) 498-3416
Pastors
| | |
| --- | --- |
| Fr. Bernard Rossmoeller | 1879 – 1885 |
| Fr. Reinhardt | 1885 – 1886 |
| Fr. Francis Marks | 1886 – 1910 |
| Fr. William Pietsch | 1910 – 1912 |
| Fr. Ernest J. Eckhard | 1912 – 1919 |
| Fr. John H. Gramke | 1919 – 1928 |
| Fr. J. J. Klaes | 1928 – 1943 |
| Fr. Paul P. Heinen | 1943 – 1950 |
| Fr. Oscar J. Wernet | 1950 – 1952 |
| Fr. L. Rathgeb | 1952 – 1963 |
| Fr. P. Klumbys | 1963 – 1966 |
| Fr. Paul P. Heinen | 1966 – 1967 |
| Fr. Robert L. Heintz | 1967 – 1976 |
| Fr. William Hembrow | 1976 – 2016 |
| Fr. D. Patrick Gibbons | 2016 – 2017 |
| Fr. Stephen Pohlman | 2017 – 2019 |
| Fr. Hyland Smith | 2019 – 2023 |
| Fr. Martin Smith | 2023 – |
St. Mary's, Westwoods was founded by a group of German immigrants in the early to mid-1850s. These people originated from a place in Germany known as Westerwald (Westwoods). At the time they were settling here, the area was almost all virgin forest. Naming their new home after the one they had left in the Old Country proved very appropriate.
From 1847 – until 1859, mass was held in the homes of parishioners. The first mass was offered in the home of Mr. Goetten who lived a half mile south of the present church. In 1859, the people saw their first church built and completed on a 2.5 acre plot donated by the Goetten and Becker families. It was attended by priests from the Cathedral in Alton, IL. The name given to the church at time was Presentation of Blessed Virgin Mary.
From the time the first church was built in 1859 until 1879, the parishioners were served by priests from outside the community. They came from Alton and Quincy, which was a 125-mile trip, sometimes only for two Sundays a month, to minister the needs of the congregation. It was during this time that the parish house was built to serve as both a school and home for the teacher.
In January 1879, St. Mary's saw their first resident priest, Father Bernard Rossmoeller. Father Rossmoeller later became a mission of Holy Ghost. The congregation consisted of 30 families From 1885-1886, Father Reinhardt served the church. Beginning in 1886 until 1910, Father Francis Marks from the Holy Ghost Church in Jerseyville served as pastor of St. Mary's also. In 1897, they saw the second larger frame church dedicated.
St. Mary's School was built in 1909. The one-room schoolhouse was closed in 1968 when the students were sent to Jerseyville to attend Holy Ghost grade school. The schoolhouse still stands today, one of the few left in the Jersey County area.
Father William Pietsch was pastor from 1910 – 1912. Father Ernest Eckhard served from 1912 – 1919. On March 9, 1914, the church was destroyed by fire. However, the people responded quickly and by the autumn of the same year, they had rebuilt their church, choosing a brick, Romanesque style. This church is still in use today. Native sons, Father Justic Schmeider offered his first mass July 3, 1924 and Father Rede Dahmus on June 6, 1926.
Father John Gramke was appointed pastor to both Holy Ghost in Jerseyville and St. Mary's in Fieldon. In 1928, the last year Father Gramke served at St. Marys, there were 45 families registered. Father J. J. Klaes also served at both churches from 1929 – 1943. At that time, Father P. P. Heinen was appointed as administrator.
In March 1950, the congregation saw their first resident pastor in over 65 years when Father Oscar J. Wernet was assigned there. In 1952, Father Rathgeb came to assist Father Wernet. Upon Father Wernet's death in 1952, Father Rathgeb was named administrator and remained as resident pastor until 1963. He was succeeded  by Father P. Klumbys. Father Klumbys was buried in St. Mary's Cemetery in 1966. For the next year, Father Heinen again served as administrator of St. Mary's while also being pastor of Holy Ghost Church. In November of 1967, Father Heintz was appointed pastor of both Holy Ghost and St. Mary's parishes came to assist with masses on the weekends. Father Heintz was transferred in 1976.
In October 1976, Father William Hembrow came to Jerseyville where he was pastor of both Holy Ghost and St. Mary's churches until his death in 2016. He was assisted by Father R. Niebrugge at St. Mary's for a short time in the 1980s until he suddenly passed in 1983. In June of 1985, Monsignor P. P. Heinen retired and came back to live in Jerseyville. Monsignor began having masses at St. Mary's on the weekends to assist Father Hembrow. At the age of 93, Monsignor was still holding services on Sunday mornings. Monsignor Heinen passed on June 29, 1998.
Father Hembrow divided his time between Holy Ghost and St. Mary's for 40 years until his death on September 6, 2016. Father D. Patrick Gibbons and Father Tom Hagstrom were assigned to St. Mary's and Holy Ghost until July 1, 2017 when Father Stephen Pohlman was assigned as pastor along with Father Martin Smith as Parochial Vicar.
Even to this day, the parish continues to carry in the tradition of the annual church picnic which is held the third Sunday in August. As you can see, there are many priests and people who have helped form St. Mary's into what it is today. This congregation has managed to keep the small country church feeling in a time when life seems to be going faster and nothing can survive without building bigger and better. This is a church where most all parishioners know one another, their children and their children's children.